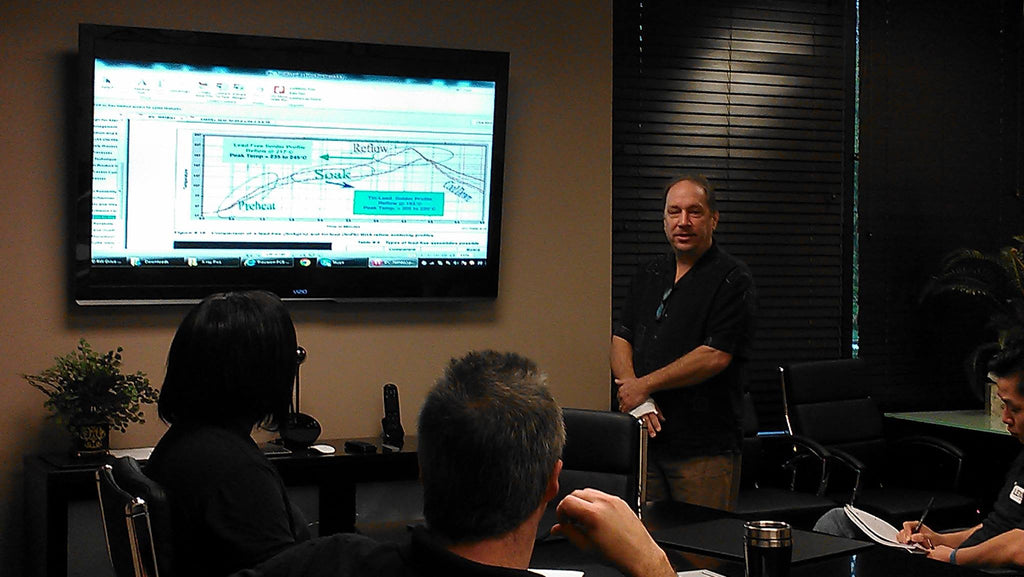 BGA Rework Training and Certification
BGA Rework Process Implementation
This high tech course is designed to help you set up your own BGA Rework Department in house and for those companies that are already doing BGA Rework but are having difficulty with  yeild or encountering unknown defect anomalies .
Learn everything you need to set up or imporve your own BGA Rework Process in house.  You will get to try out and evaluate the latest models of BGA Rework Stations at our facility including Shuttle Star, Zhuomao, WisdomShow and we even have an SRT 1000.
We will show you what we use to acheive our zero defect process.  The lateses processes, materials, equipment and techniques for rework of BGA, QFN, LGA, PoP and other SMD components.
Key Topics Include:
A review of the parameters for establishing a safe thermal profile.
Circuit board preparation - masking, baking and other process steps.
BGA site preparation.
Solder mask breakdown - how to prevent it, how to fix it.
BGA removal and replacement process.
Inspection and interpreting x-ray results.
BGA Re-Balling
BGA pad Repair
Flux Considerations for BGA's, LGA's and QFN's.
Solder Paste Considerations for Fine Pitch Devices.
Latest Techniques for QFN and LGA Installation.
Solder Bumping vs. Solder Paste.
Tacky Flux vs. Solder Paste.
How to acheive a Void Fee component installation.
The latest stencils and fixtures availalbe to acheive Zero Defect.
Working with fine pitch and extrememly small parts.
Identify and resolve defect anomalies related to the Lead Free Process.
Identify and resolve defect anomalies related to Surface Finish, i.e..  "Black Pad".
And Much more!
Price for this 3-day class at our Oroville facility is $1000.00 per student.  
We can also provide this course at the your facility and combine the training with an on site consulting and evaluation of your current in house process.
Call the BGA Experts at (888) 406-2830 for more details.
Also see:  http://www.pcb-repair.com/training/bga-rework-process-implementation/
---