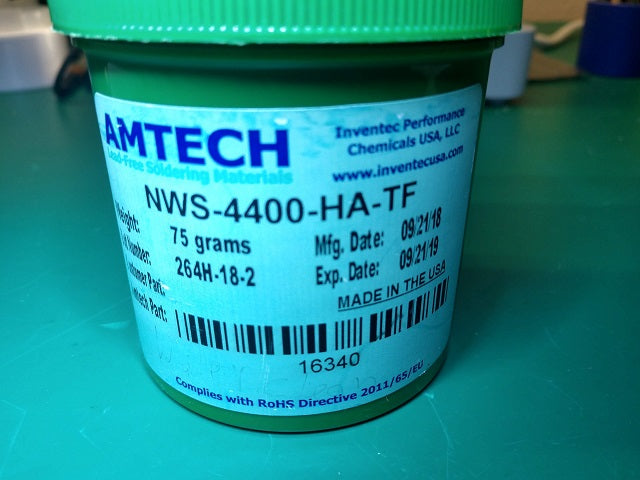 AMTECH NWS-4400-HA-TF Water-Washable Lead-Free Tacky Solder Flux (REM1) in 75 Gram Tub
Lead-Free / RoHS 3 Compliant / REACH Compliant
Description:

AMTECH NWS-4400-HA-TF is a universal tacky solder flux designed to combat oxidation and address issues with wetting.
NWS has proven to handle the most difficult wetting/preparation tasks and has become widely accepted formulation on Flip Chip Bumping and Chip Scale Packaging sites.
– REM1 flux classification
– Optimized for lead-free and standard alloy systems
– Wide process window
– Excellent wetting compatibility on most board finishes
– Complies with REACH articles 33 and 67 of regulation (EC) No. 1907/2006
For installation of Lead Free BGA's we suggest Amtech NWS-4400 mildly active tacky flux to provide a higher yield.
Cleaning:
As a rule of thumb removing M1/H1 flux residues is paramount, however it is an easy task – use warm de-ionized water at 40-60°C with recommended water pressure of 30-50 PSI – NWS residue is completely water soluble!
---